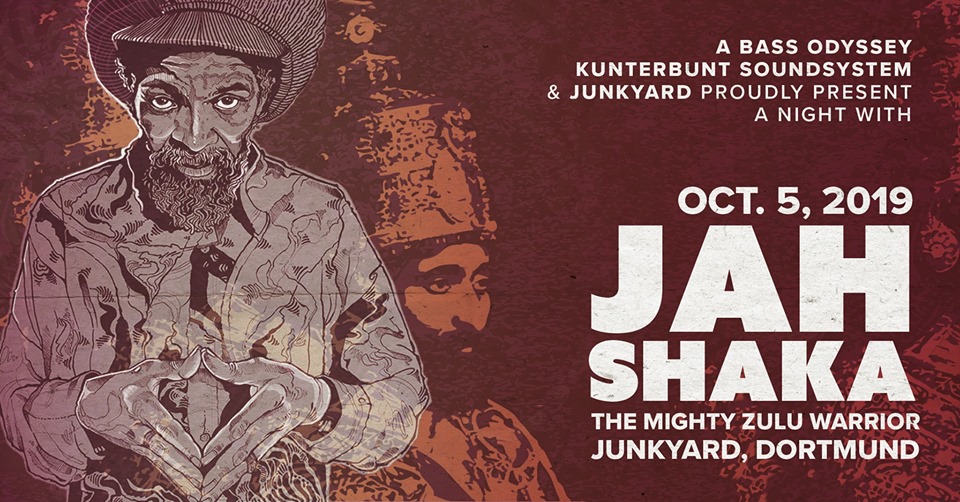 05.10.2019 | Jah Shaka at Junk Yard
Junk Yard | Dortmund
A Bass Odyssey, Kunterbunt Soundsystem & JunkYard
proudly present a night with the mighty zulu warrior
★ ✫ ★ ✫ ★ JAH SHAKA ★ ✫ ★ ✫ ★
live in session at JunkYard, Dortmund
playing an extended set on the heavyweight
Kunterbunt Soundsystem!
Warm up by: I&I

Tickets available now:
https://tickets.abassodyssey.com/jahshaka-dortmund-2019/
★ ✫ ★ ✫ ★ ABOUT THE ARTIST ★ ✫ ★ ✫ ★
Jah Shaka, also known as the Zulu Warrior, is a legendary reggae/dub sound system operator and producer. Based in the UK, he has been operating his sound since the mid-1970s. In the 1980s, he was famous for keeping up his roots and culture agenda, while most of the UK sound systems followed the Jamaican trend for digital dancehall riddims and "slackness" lyrics. While this move placed him outside the reggae mainstream, he acquired a new (white, as well as black) following. His fans and musical co-operators – such as The Disciples, Jah Warrior and Iration Steppas – went on to coin a distinct electronic style of dub nowadays typical for the UK. With his strictly Rastafarian attitude and the dry and heavy sound of his productions, which are (in contrary to most of the more recent UK dub) recorded with live instruments, yet stripped down to the maximum, Jah Shaka is considered the forefather of UK Dub.
On his label, Jah Shaka Music, which has been operating since the early 1980s, he released not only crucial dub albums, like his classical "Commandments of Dub" series, but also various vocal cuts by artists like Max Romeo, Horace Andy and Johnny Clarke.
Jah Shaka still plays on his sound system on a regular basis in the UK and from time to time in other countries, finally having recovered after heavy house fire injuries in 2000. His sound system gigs are a cultural institution that have had a huge impact not only on the development of dub, but on English popular music altogether. His sets introduced not only many future apostles of UK dub to roots music, but also influenced mainstream producers like Basement Jaxx.
★ ✫ ★ ✫ ★ TICKETS ★ ✫ ★ ✫ ★
Early-bird tickets are now available from our website!
https://tickets.abassodyssey.com/jahshaka-dortmund-2019/
✫ ★ ✫ ★ ✫ ★ INFO ★ ✫ ★ ✫ ★ ✫
JAH SHAKA at JunkYard, Dortmund
Saturday, October 5th, 2019
Doors open at 21:00
JunkYard
Schlägelstraße 57
44145 Dortmund
Open Doors 22:00 Uhr
Schlägelstraße 57